My dogs, Lola and Griffin, are like my kids. They are a part of my family and the relationship that we have with our pets, be it a dog, cat, bird, reptile, or farm animal, are some of the most consistent relationships that we have. Who else is so excited for you to walk through the door that they great you, want to eat your food, and demands belly rubs? Sometimes they even get more Instagram likes than you! Pets are family and it makes sense to include them in your estate planning documents just as we would care for loved ones.
The best way to include your pet in your estate plan is with an animal care trust – often referred to as a pet trust. This is a special kind of trust that specifically provides for the care of your pet in the event that something happens to you. In the trust you will include certain information such as:
Identifying your pets to be taken care at the time of your death or disability,
Describing your pets' standard of living, including any special instructions,
Determine the amount of funding that's needed to cover their care,
Designate a trustee, caregiver, and remainder beneficiary, and
Specify how the funding should be distributed and provide instructions for the final disposition of your pet.
See the below graphic for more information on how you can care for your pet through an Animal Care Trust.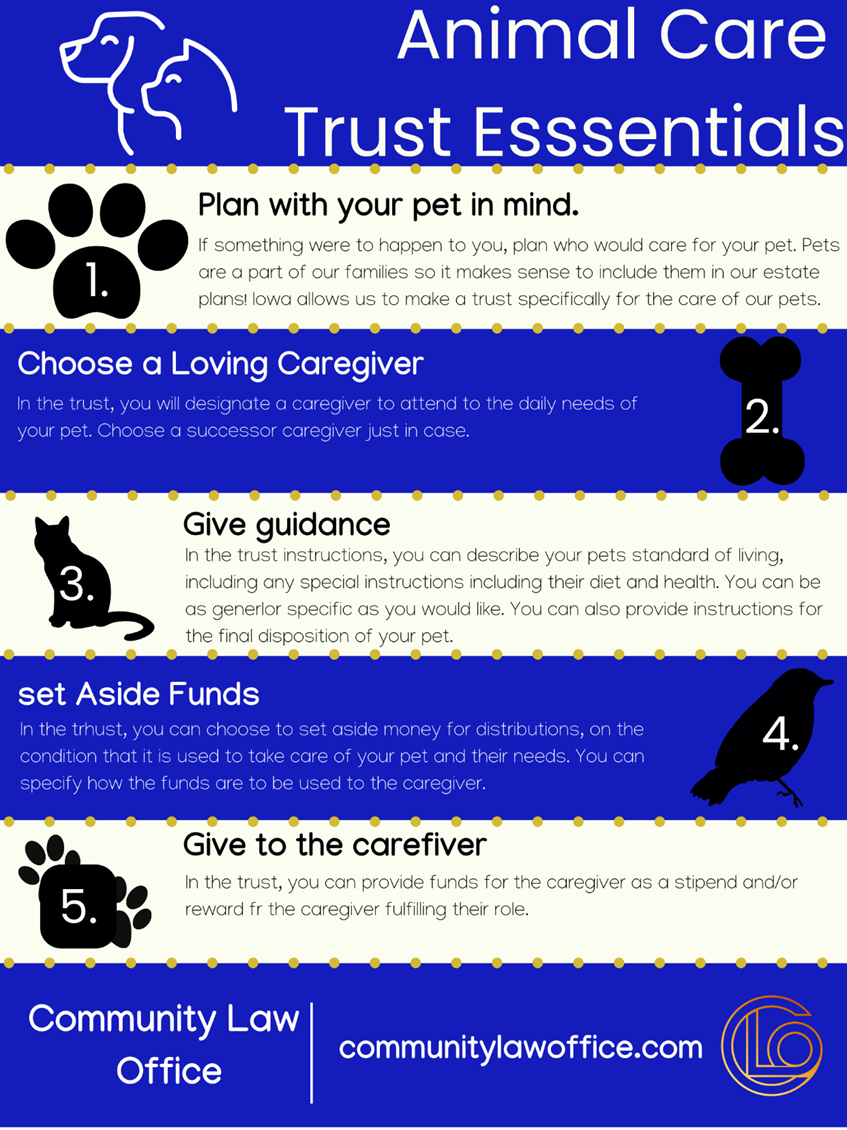 Do you have a will? If not, and you are looking to start your estate plan, call Community Law Office at (319) 200-7050 now!
We offer free consultations and love to help our clients manage their individual situations to determine what estate planning tools are best! Reach out via our website, www.CommunityLawOffice.com, or phone, (319) 200-7050, to talk with one of our estate planning attorneys today!